Inlagd den
Inlagd i 2020, 2021, affordable, airblade, best, best hand dryer, budget, drying time, dyson, fast drying, hand dryer, low noise, mitsubishi hand dryer, noise, pebble, performance, quick, silent, xlerator, xlerator hand dryer
Extended test by expert panel
In this test, a panel of three industry experts have assessed 12 different devices to verify their specific characteristics and overall performance. The ratings are not based on the specification sheets provided by the manufacturers, as those tests are seldom executed under identical conditions and therefore will not stand comparison. Instead, the ratings are based on the panel's own measurements and experiences using the devices. Characteristics such as look and design are evaluated from a subjective perspective.
Below you can find the results which we have categorised as follows: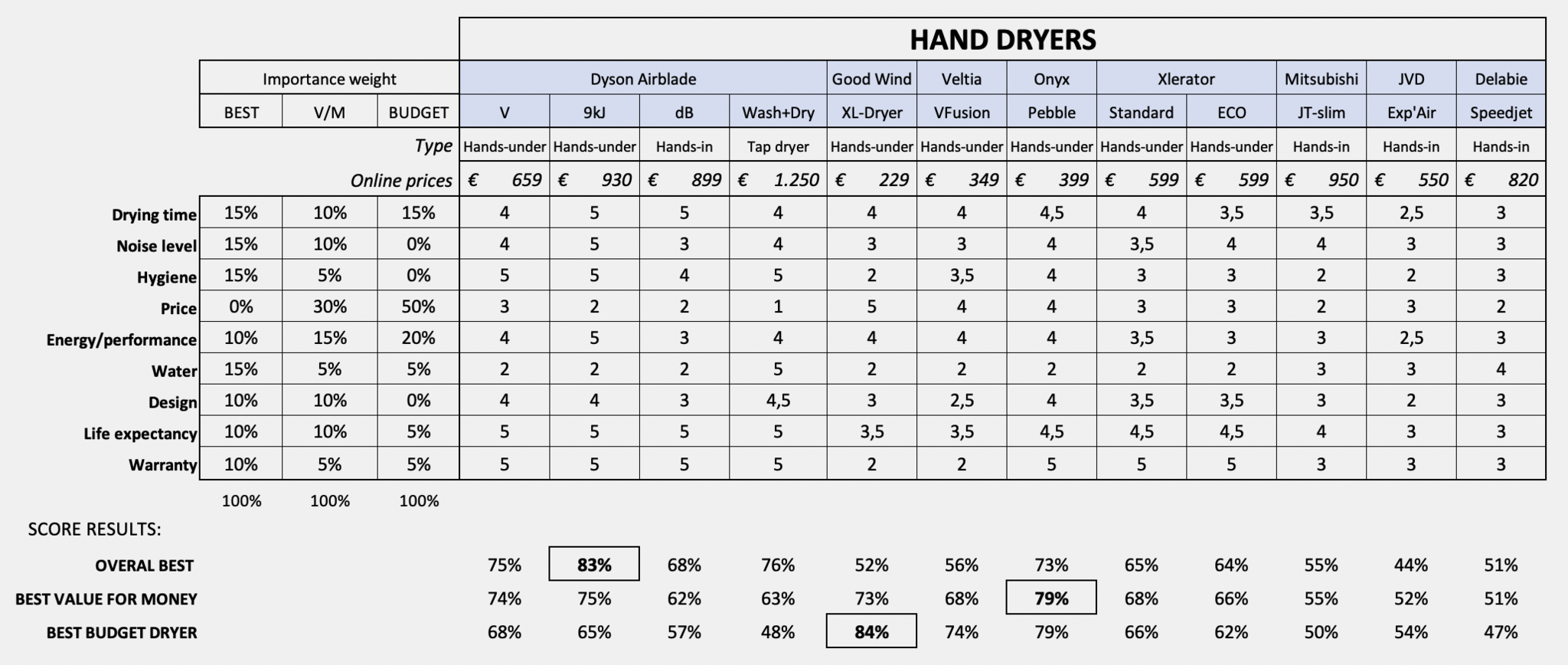 We have evaluated each of the following characteristics:
Drying time
This is probably the most flexible term used in the industry. When are hands considered to be dry? As there is no standard way to conduct a drying time test, companies can make claims which in reality will not hold up.
Dyson's drying time is based on an amount of 0.1 g water residue on the hands. Most manufacturers allow wetter hands, advertising shorter drying times.
In our test, the panel's experts have held their hands under water for 2 seconds on each side, shook their hands 3 times and measured the dryness of their hands by pressing both sides of the hands on a piece of moisture-absorbing paper. The experts performed the test multiple times with the same hand dryer until they saw no wet stains larger than 0.5 cm left behind on the paper.
In this particular test, the Dyson 9kJ and dB scored the highest, followed soon after by the Onyx Pebble, which powerful air stream beat Dyson's V. Brands including Xlerator, Veltia and Goodwind demonstrated a more than acceptable drying performance. It is important, however, to indicate that some devices do not have a purifying filter, allowing a faster drying time, which will be explained later under Hygiene.
Noise level
Recently, we have noticed a trend shift in the market. Whereas there used to be a race for producing the fastest hand dryer, today, much more focus is placed on hygiene and on significantly reducing the noise level without reducing performance. Some companies (e.g. Dyson) hired a team of noise engineers whose sole job is to make all hand drying devices quieter.
The best in class is Dyson's latest product, the 9kJ. In this device, noise levels have been reduced by state-of-the-art engineering, leading to a leaner product with curved handles. The unique design allows air to be blown around your hands, while requiring less power to do the same job. We noted a significant drop in noise levels and measured 75 dB at a distance of 1 metre.
Other noteworthy results – where we measured acceptable sound levels of less than 80 dB at a distance of 1 metre – were ascertained when testing the Dyson V, Dyson W+D, Onyx Pebble, Xlerator Eco and Mitsubishi JT.
Hygiene
We have taken several indicators into account when rating the hygiene level. The first indicator is the presence of a HEPA filter and the level of filtration (scored using the MERV standard, which rates the overall effectiveness of air filters).
Secondly, the panel looked at the presence of an antibacterial coating. Thirdly, the way water is contained or discharged was rated. Although handy, an internal water collector can be highly unhygienic as it is a hotbed for bacteria.
Manufactures tend to have to make a trade-off between hygiene and performance as filtration requires additional power to drive the air through a filter. For that reason, some manufacturers choose not to include a filter, keep the filter optional or use a thin one.
Dyson Airblades have the highest level of filtration. Moreover, these filters do not need to be replaced as regularly (3-5 years). The Onyx Pebble includes a 3M HEPA filter, which is also used in professional anti-bacterial masks. Xlerator has an optional mid-range filter. The other hand dryers are equipped with quite thin basic filters. In this test, Goodwind hand dryers are the only ones that do not have a filter.
Price
The price settings that were used in the test are not the recommended retail prices, but the prices that were listed online. The panel defined the 5 prices levels as follows:
up to 250€
up to 500€
up to 750€
up to 1,000€
more than 1,000€
Energy
Energy consumption is reflected on your bill, and also defines just how sustainable the device is. The best hand dryers have a CO2 footprint that is 80% smaller than that of paper. According to the panel of experts, it does not make sense to measure energy consumption without relating it to performance. For that reason, the experts measured energy consumption divided by the measured drying time.
The 9kJ was built so efficiently (lean wind streams and curved handles) that they produce the most powerful output with a minimum of required energy (650 or 950 Watt). Onyx also performs above-average, and only requires 300 to 400 Watt. Both models have 2 drying modes.
Water
Water is somewhat of an issue when it comes to hand dryers. Water collectors might be handy but are not always hygienic. The most hygienic solution for hands-in dryers is to guide the water towards the ground (like Dyson dB). However, that might leave water on the ground in locations where the hand dryer is used intensively.
Hands-under devices spread the water more evenly but can also leave drops on the floor. The Delabie Speedjet comes with a tube to be connected to your sink. In the panel's opinion, however, it involves a more complex installation process and is less elegant than the Dyson Wash+Dry.
The panel's favourite design hands down is the Dyson Wash+Dry, which saves space in your washroom, but also prevents water from spilling onto the floor as you do not need to walk up to any device. It is important to keep in mind that only specific sinks are compatible with the Wash+Dry, implying that this device tends to be better suited to new buildings or renovations.
Design
As was indicated at the top, this section is more subjective. Still, considering the experts' experience, their opinion is valuable here as well.
The panel believes that Dyson is strong in design. The Wash+Dry is made to fit and look stylish in many environments, as does the 9kJ, which once again is totally different than anything you have seen before. The experts were also truly charmed by the Onyx Pebble which looks smart and has a pearl colour finish, giving it a stylish, contemporary look.
Life expectancy
For the life expectancy test, the panel relies on crucial indicators of the life expectancy, being:
the type of motor that is used, namely a motor with or without brush. A brushless motor causes less friction between elements and therefore lasts much longer;
experience of repair centres with returned products for maintenance.
Dyson is renowned for its low failure rate (about 4% in 5 years). Xlerator and Onyx also have a long life expectancy, of course depending on maintenance. Well maintained devices produced by these brands can live up to 6-8 years.
Warranty
Xlerator is best in class offering 7 years of warranty, closely followed by Dyson and Onyx, each offering 5 years. The other brands in the test offer a warranty of 2 to 3 years.
Our expert panel's conclusions:
In our panel's test, the Airblade 9kJ proved to be the best overall hand dryer you can find on the market right now – that is, if budget is no issue as you are willing to spend around 950€. It has a new design, but more importantly it delivers power while also offering a strong hygienic filtration. Moreover, it consumes little electricity, which is good for the environment and your wallet.
An option that is also worth mentioning is the runner-up, the Airblade Wash+Dry. The panel is convinced that this is a great product that should be considered if you are planning to renovate your washroom, or build a new one. It solves the problem of water splashing onto the floor, and makes the washroom look better, as there is no need for boxes on the wall. Be prepared to spend a little more as this product comes at a higher price, i.e. around 1,250€ a piece.

With a price tag of 399€, the experts believe the Onyx Pebble is a great choice. It looks good with a sleek, pearl colour finish, it uses a 3M HEPA filter and delivers a better drying performance than many of the more expensive models.

If you are not willing to spend more than 250€ on a hand dryer, the panel advises purchasing a Goodwind XL-dryer. It is similar in looks and performance to the Xlerator but comes at a much lower price.